Door Hanger Printing
Door Hanger Printing: Effective & Affordable Advertising Method
Door hanger printing is one effective and low-cost advertising option exercised by business of all sizes. Door hangers permit you to easily reach your target market by bringing your company information to their doorstep.
Door hangers will ensure that your potential customers see your marketing initiatives: they need to remove the door hanger in order to open the door, so there is absolutely no way they will not notice the hanger.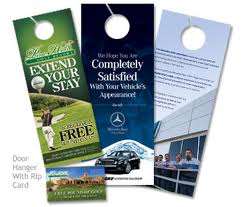 Keep in mind that you can use these custom made pieces for business and not just residential neighborhoods. When planning your door hanger printing, customize your messages to target the audience you are aiming for in order to gain a competitive edge in local markets. You can also add perforation and a coupon incentives that your customers can simply rip-off and collect for their next purchase.
Let us prove to you how effective door hanger marketing can be.
---
We are proud to provide an unparalleled service and combine that with craftsmanship and leading edge technology and software. We care about doing your job right. Each and every one of us takes our commitment to quality and customer satisfaction seriously. We go the extra mile and take extreme precautions to ensure that each order is precise and has consistent results.
Feel free to contact us, get a quote or call us now at
416-481-5159